Ingredients:
First you slice the apples. Feel free to rub a bit of lemon juice on them if they will be sitting out. This is why I like spreading nut butter on the middle to cover up the apple flesh – it hides a bit of browning. Now, spread on some jam or nut butter for the tongue and then push some slivered almonds in for the teeth. For a nut-free option, sunflower or pumpkin seeds can work in a pinch.
Oh She Glows
---
Ingredients:
1 1/2 cups medium or short grain rice
2 cups carrot juice
1 cup water
1/2 teaspoon salt
Boil all ingredients for 15 minutes, or until all liquid is absorbed. Let cool to room temperature. To make jack o' lanterns, form small golf ball sized balls out of rice, pressing firmly with hands. To form eyes and mouths, cut black olives into shapes and press into the rice balls. To make stem, cut a small triangle of green bell pepper and stick into rice ball on top.
Apron Strings
---
Ingredients
1 string cheese
1 (1-inch) slice of bread
2 black beans
Yogurt, for tiny dots
Marinara sauce, for serving (optional)
Cut each end of the string cheese into fourths (to make 8 total legs for your spider). Wrap the bread slice around the middle section. Make small indents in the bread where you want the eyes to go and push black beans in gently. Use a toothpick to add a small dot of yogurt to each black bean. Serve spiders alone or with warmed marinara sauce for dipping as a pizza-like snack.
---
Ingredients:
Pineapple (fresh or canned)
Mandarin oranges
Whipped cream
Ok, ok. So maybe this little treat shouldn't technically be classified as "healthy." I mean, it does have whipped cream on top. But if we compare it to the corn syrup, pure sugar, classic candy…. well you can see where I'm coming from. This snack takes 5-minutes and the kids will love it.
---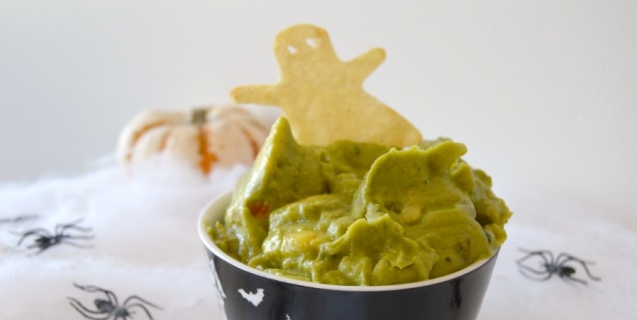 Ingredients:
10 white corn tortillas
Spray oil (try olive or coconut)
Salt, to taste
2 ripe avocados, pitted, peeled, and mashed
1 small onion, finely chopped
1 clove garlic, minced, or 1/2 tsp. garlic powder
1/4 cup chopped, fresh cilantro leaves
1 tomato, chopped
Preheat the oven to 400°F. Stack 3 to 4 tortillas at a time and cut with a ghoul-shaped cookie cutter. Place on a cookie sheet, lightly spray the tops with oil, and lightly salt. If using ghoul shapes, poke holes in the tortillas for the "eyes" using the tip of a knife. Bake for 6 to 8 minutes, then flip and bake for another 1 to 2 minutes. In a small bowl, mix together the avocado, onion, garlic, cilantro, and tomato. Add salt and pepper to taste.
---